It's been said a thousand times but if you don't take your chances the potential is there for those missed opportunities to come back and haunt you. Macaulay Langstaff, David McGoldrick and Jodi Jones all had chances to open the scoring in the first half and on another day you would see at least one of those converted.
Equally, a chance for McGoldrick in the second half, immediately after the first Wrexham goal was well saved by Arthur Okonkwo, again another chance you might expect to see the back of the net bulge. Unfortunately the reality is it just wasn't Notts' day, however, to suggest Wrexham were 'lucky' would also be an unfair appraisal.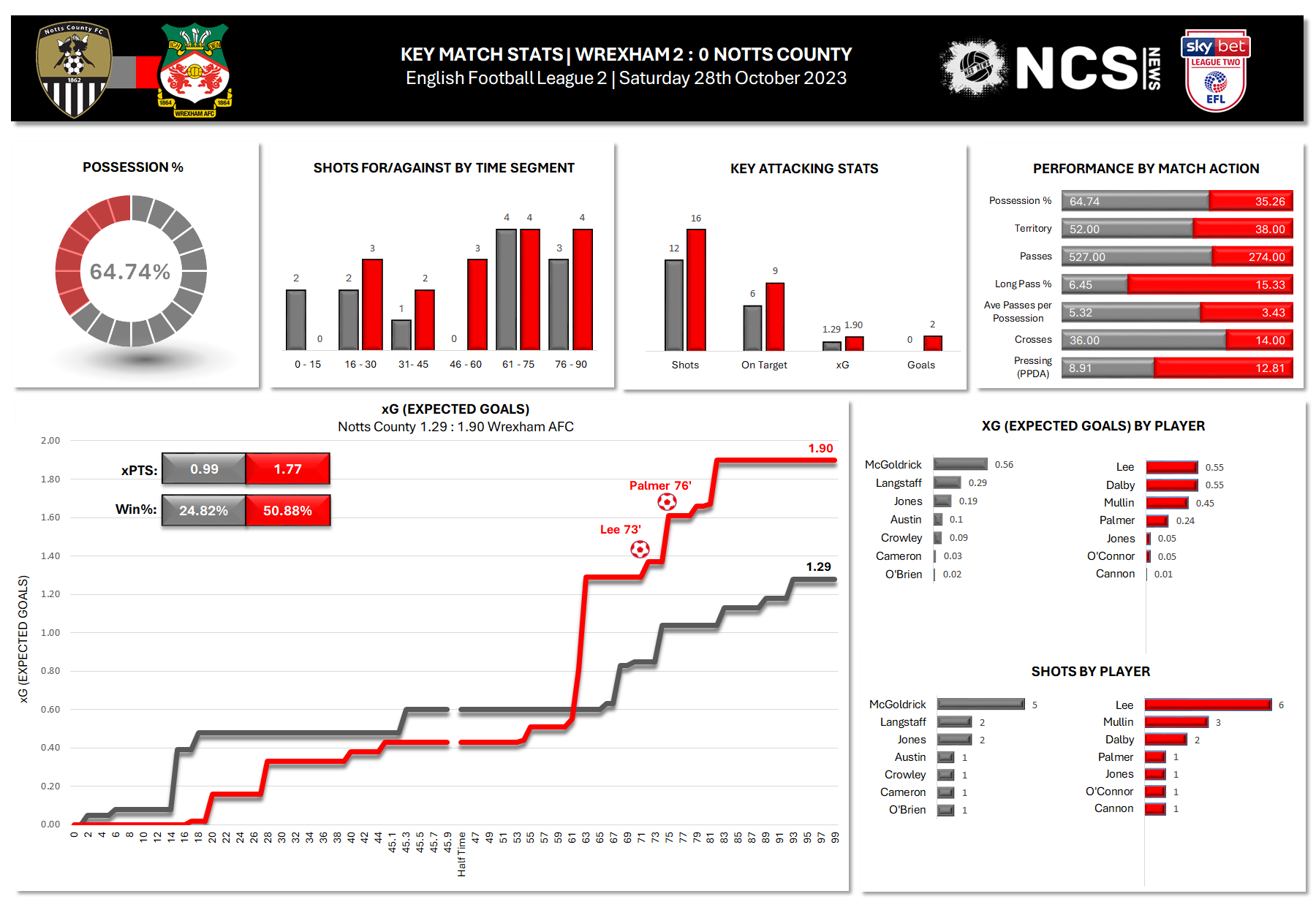 This was a very tight game, one that saw two very opposing styles. Notts stuck to their usual slow build up play looking to cause a threat down both flanks. Wrexham were much quicker in the attacking phases, progressing the ball with much fewer passes but also using their physical advantage to good effect. In the past you would have sid Wrexham are a direct side but again that would be unfair. They offer much more than that, themselves often using their wide areas to good effect but also providing a constant threat from set pieces.
It's also fair to say that Notts were unlucky to still have John Bostock out with injury, a player made for the big occasion and one who would have added that extra bit of bite and experience in the middle of the park. The subs bench was also a key factor. Other than Sam Austin the only other real attacking threat The Magpies had available to them was Will Randall, a player who has featured in just a handful of minutes for Notts this season. Wrexham on the other hand had Ollie Palmer, and it was the substitute that was in the right place to capitalise on a defensive error and put the visitors 2 up.
That said Wrexham had their own injury issues with midfielder George Evans and out of favour Ben Tozer having to step in to the back three.
Based on the xG analysis it's fair to say that Wrexham deserved the win, goals win games and Phil Parkinson's men made the most of their chances where Notts failed to.