If you were one of the 8,095 that ventured out to Meadow lane on Tuesday evening you would have been fortunate enough to witness one of the best individual performances from a Notts player for some time.
For the 83 minutes on the pitch Jodi Jones was quite frankly unplayable, being instrumental in all three goals and completely terrorising the Newport defence, none more so than young right back Lewis Payne. The 19 year old was eventually withdrawn after 63 minutes in a game that saw him lose 10 of his 13 duels with Jones, including seeing a yellow for trying, and failing to up end the Maltese winger late in the first half.
I posted a few key stats for Jones' performance on Twitter (X), but for those that missed them here they are again.
Minutes played 83
Assists 3
xA (expected assists) 0.99
Progressive runs 7
Dribbles 17
Offensive duels won 14
Completed passes 75%
I truly was a quite remarkable performance and great to see him hitting the potential we all know he possesses, especially ahead of this weekends sell-out clash with Wrexham.
Onto the match stats now and it really was a quite dominant performance against a particularly poor Newport.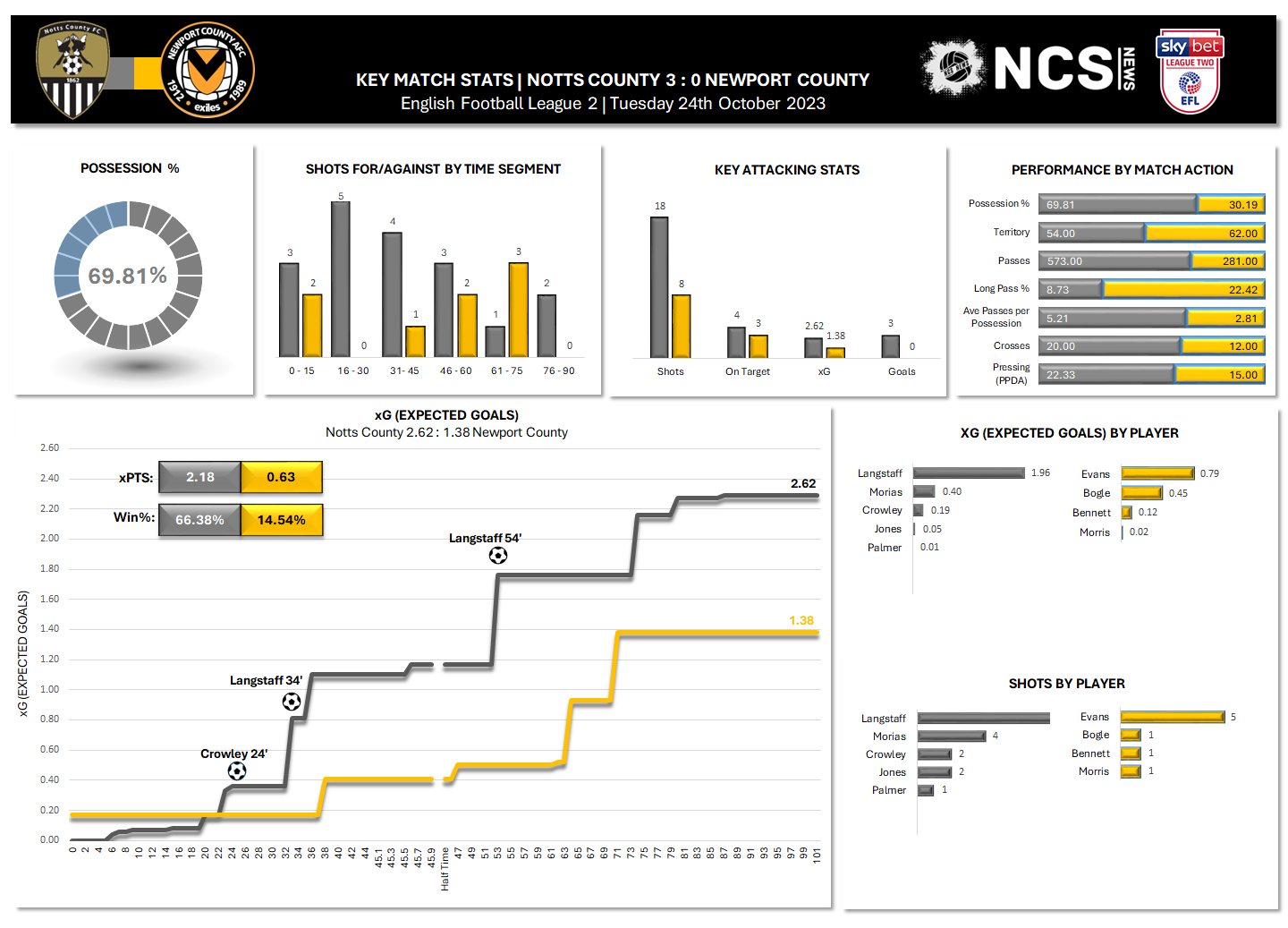 Just shy of 70% possession (yes, I forgot to recolour the possession chart) and a constant threat throughout the game provides us with the kind of match stats dashboard we became familiar with last season.
The xG analysis confirms how comfortable Notts were and on another day the Magpies might have won by a larger margin, and stand in Captain Macaulay Langstaff probably should have recorded his first EFL hattrick having had 9 shots on goal.
One interesting anomaly from this game suggests Newport had the edge when it came to territory, however, this is measured on the number of passes to the final third and in reality, a large proportion of those from the visitors were basically clearances and big hoofs upfield, generally in the direction of the lone striker Omar Bogle, who cut a frustrated figure before being subbed late on.
Unfortunately the game petered out as a spectacle for the last 15-20 minutes as both managers made bulk changes. That said it was great to see you Madou Cisse get a run out and whilst we are singing the praises of Jones and Langstaff we really should save a mention for Lewis Macari who followed up his performance at Gillingham with an accomplished and very mature showing which again will provide much needed assurance that there is that strength in depth at the back that was previously a concern for the Notts faithful. Fingers crossed he continues to perform at similar levels and we succeed in extended his loan beyond January.