It was Napoleon Hill who famously declared "Every adversity, every failure, every heartache carries with it the seed of an equal or greater benefit." If you put to one side Hill was largely considered a 'get rich quick' conman by his peers, you can't argue with the sentiment of his quote.
Such was the defeat to Mansfield the words failure, adversity and heartache will resonate with many a Notts fan, but in the cold light of day there is an opportunity for Luke Williams, his coaching staff and players to take stock, learn from the experience and look to implement the changes needed to nurture the seed of greater benefit moving forward.
The match data makes for uncomfortable reading. Despite the early lead Notts were second best in just about every department, and whilst we can lament missing key players, tactically Notts were left wanting as they struggled to make headway beyond the Mansfield press. Additionally, the way Nigel Clough had his players set up meant they had an extra man overload in midfield which enabled them to stifle any attempt by Notts to progress the ball through the lines and half spaces in the way they would normally like to.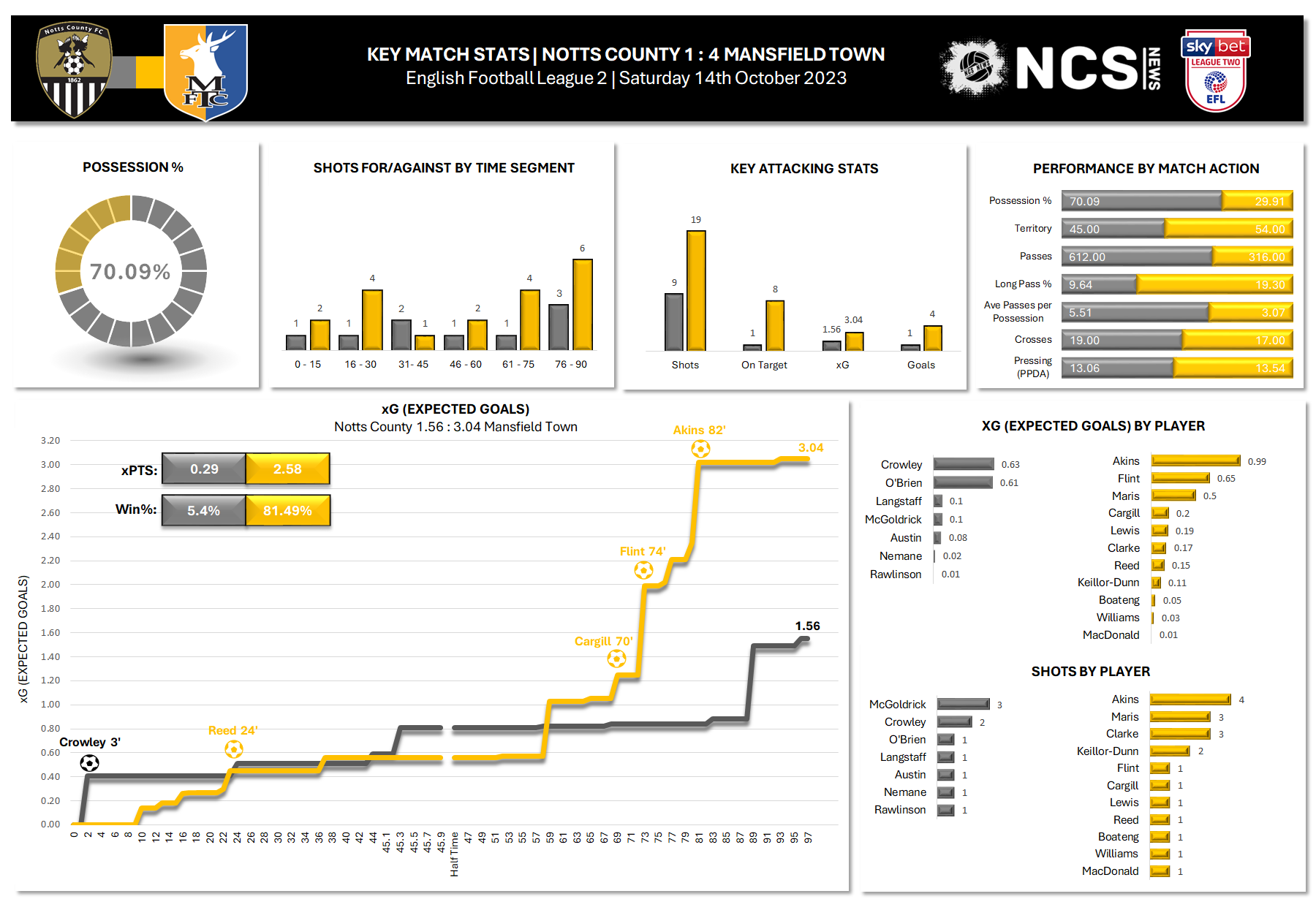 To allow the opposing team to have double the attempts on goal on your own patch is quite damning in itself, but add to that the number of Mansfield players that had goal attempts and you can start to get a feel for just how dominant they were. Of course, we really don't need the match data to confirm any of this, we unfortunately witnessed this first hand, but to see it in black and white (or yellow in this case) really rams it home.
To labour this point any further will be of no benefit to anyone, but there are key questions that the Notts management will need to be asking themselves after yesterday's performance. Personally, despite the injuries, I do feel there was a degree of tactical naivety in the way Notts approached the game, yes, the late injuries didn't help, and there's no doubting this was, on paper, probably the weakest team Luke Williams has put out in a league game this season, but even so there has to be some method of tactical divergence that could be implemented when facing physically robust opposition Mansfield.
Either way if there is one thing we have learned about Luke Williams, it is that he will spend every last minute afforded to him in trying to nurture every possible piece of success from those seeds of adversity and failure.