When previewing this game I suggested that with the recent arrival of Graham Alexander that this would be a much tougher game for Notts than it looked on paper. After the first 45 minutes I was seriously beginning to doubt myself having witnessed a Bradford side that was without doubt challenging for the accolade of the worst team we've seen at Meadow Lane this season.
Those thoughts were dependant on how Alexander set his Bantams team up against Notts and so was surprised to see them start with a very rigid 4-4-2 and literally no press. This may have been intended to reduce the space in the middle and force Notts to play around what vaguely resembled a mid block. In reality the execution was poor and resulted in more space in between the lines for Notts to capitalise on than the Bradford boss would have ideally wanted or indeed intended.
Notts made good use of the space afforded to them, putting the visitors to the sword in an enthralling first half performance that saw 4 very different goals that really showcased the variety of the Magpies attacking threat. With Notts leading 4-0 at the break and presumably coasting there were many who would have expected the game to continue in similar fashion in the second half with thoughts of improving the goal difference foremost in many fans minds.
However, any thoughts of a second rout were tempered by a shrewd double substitution during the interval by Alexander. Replacing Taylor and Pointon with Platt and Kelly meant he was able to change to a back three and allow his two full backs Halliday and Richards to play as wingbacks which in turn allowed them to press higher, especially down the flanks. This left the Notts players flat footed and chasing the game from the start of the second half.
To Bradfords credit they were able to capitalise on this with a Richard Brindley deflection off a Gilliead shot beating Sam Slocombe before a very well struck Walker effort halved the deficit. Notts stuck to their 3-4-2-1 formation and despite McGoldrick and Langstaff both going close the second half was all about Bradford who were afforded 21 shots on goal with 15 of those coming in the second half.
Previously we have discussed how not taking chances has cost Notts points this season and this game was a clear indication of why that is so important. Those first half goals essentially secured the win for Notts but there remains a repeating pattern of Notts losing out to goals conceded in the second half of games. Of the 31 league goals conceded this season 23 of them came in the second half. I was challenged by a few on social media after the game because I said you don't win games in the first 45 minutes, and whilst I agree the phrasing was probably a little out of context the intention remained in that Notts simply have to improve second performances if they are to be serious about challenging for back to back promotions. I say this only because it is the players themselves that have set that target, a target that comes with great expectation.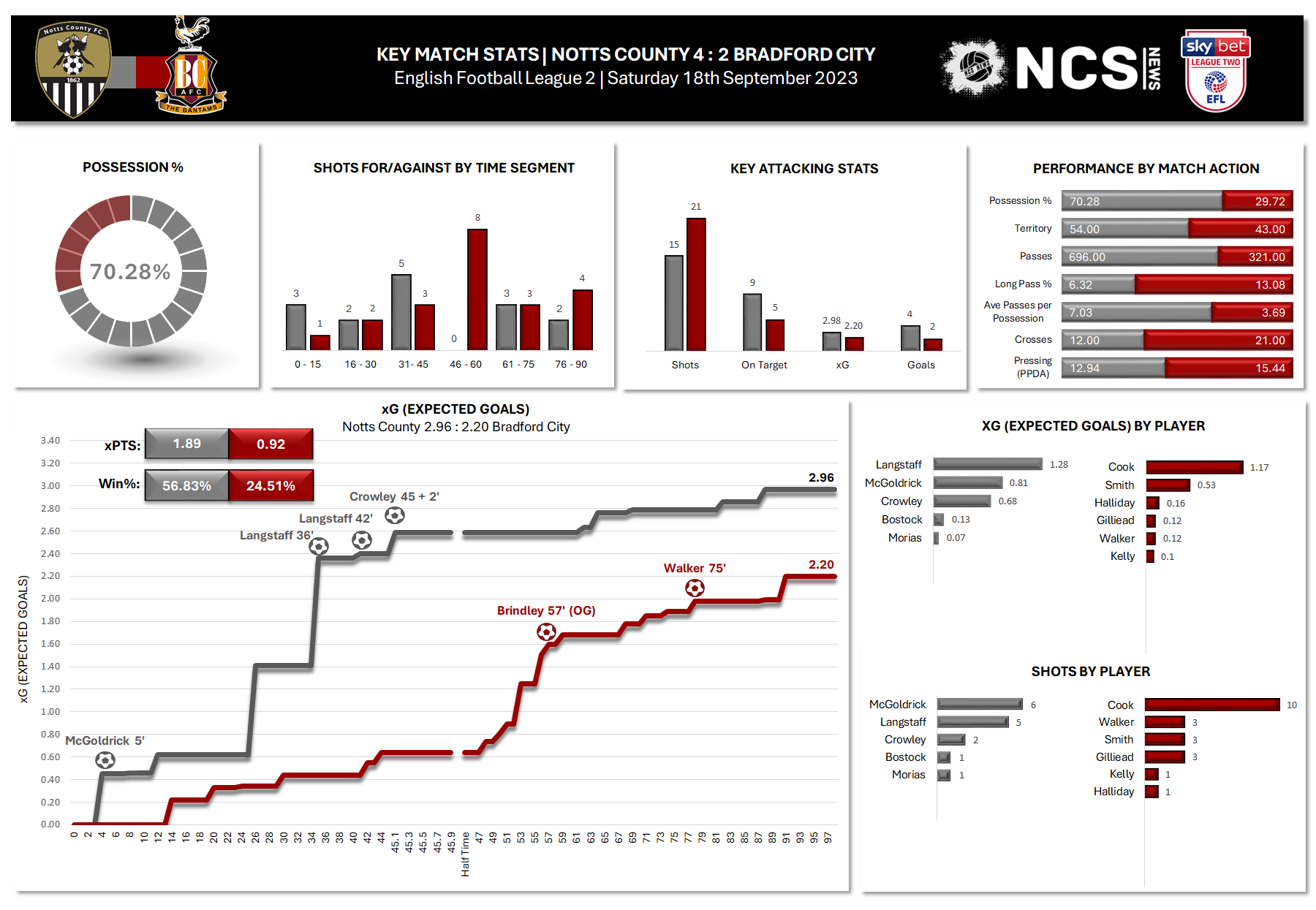 Key match stats above and the stand out stat might be Bradford's wing play where they somehow managing to put in 21 crosses compared to 12 from Notts. PPDA for both clubs is poor confirming the lack of aggressive press from either team. Notts xG showing the high value chances created, especially for Langstaff who along with his two goals saw Lewis make an outstanding point blank save from a close range header.
Don't forget you can check out the ongoing season stats here
Richard