Vanarama National League | 29 April 2023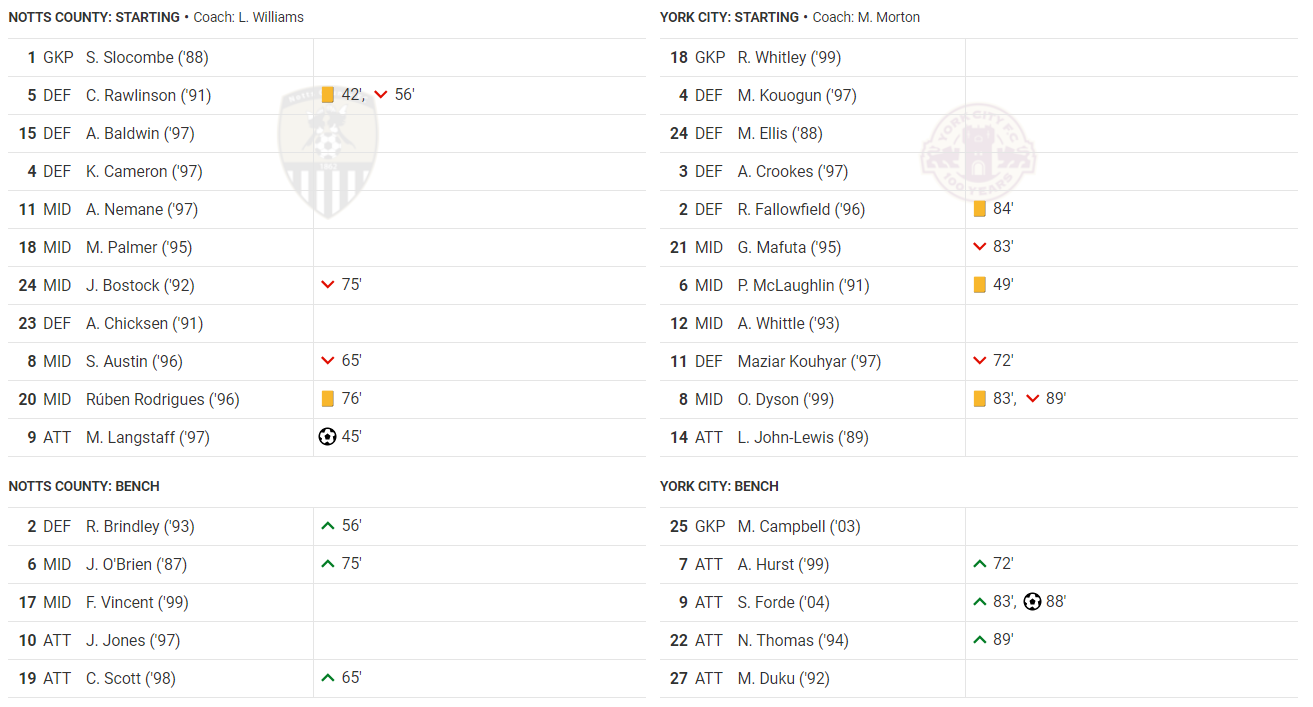 The final game of the regular season saw a bumper crowd at Meadow Lane, and while they didn't see the result they might have wanted, they did see Notts dominate from start to finish. There have been scarce few games that one sided this season, yet Notts could only make the breakthrough on a single occasion, a 42nd league goal for Macaulay Langstaff. Shaqai Forde denied the Magpies all 3 points, sending the fantastic Minstermen support home happy. And while Luke Williams started his post match interview with the line 'I'm disappointed', there were still plenty of positives to take into the playoffs.
Luke Williams went with a full strength 11, and it almost paid dividends early on, as Langstaff got the first chance of the game, seeing his header blocked wide shortly after kick off. Notts maintained the pressure, keeping the ball and frustrating the York defenders, eventually drawing a foul in shooting distance. Fresh off of his goal last week at Maidstone, Rodrigues lined up another free kick effort, slightly further out, but this time he sent it narrowly wide.
Shot after shot rained down upon York's goal, with keeper Whitley making a string of superb saves, certainly having one of his strongest performances of the campaign. Langstaff, Austin and Rodrigues forced some smart stops throughout the first half, with York's defenders getting in the way of a fair few shots too. Bostock and Baldwin too tried their luck, both from range, with Bostock's being held by Whitley, whilst Baldwin's effort flew well wide.
York looked to have forged their only chance of the half, countering down their left following a slip from Rawlinson. He looked to recover, committing a foul in the process, going into the book as a result. Notts would have time for one more chance before half time, with Bostock breaking the lines with a wonderful pass, finding Palmer in space in a more advanced position. He laid the ball off for Rodrigues, who then played the most sumptuous reverse pass, splitting the defence in half. This found Langstaff in space, racing towards goal, before poking the ball under Whitley first time, to give the Magpies the lead just on the stroke of half time.
The second half commenced much as the first finished, with Notts on top. Rodrigues lined up another threatening free kick, and while his effort was this time on target, it was well saved by York keeper Whitley. Luke Williams then opted to make his first change of the afternoon, with Richard Brindley taking the place of Rawlinson. York then had their first chance of the game, another slip, this time Nemane, forcing Slocombe into a smart stop.
Whitley was then called into action again, making possibly his best stop of the afternoon, an acrobatic effort tipping Sam Austin's shot wide, when it looked destined for the top corner. That was Austin's final action of the game, as he made way for Cedwyn Scott, who in turn drew a save from Whitley, this time a deflected header. Williams made his final change of the afternoon, Bostock making way for Jim O'Brien, fresh off a hat trick against Maidstone.
Marksman Langstaff then went close to netting his 43rd goal of the campaign, after he raced away from former Magpie Mark Ellis. He fired across goal, finally beating Whitley, but his effort struck the post and was cleared away. Notts would come to finally rue their missed chances, as the strike duo we identified in our preview, Lennell John-Lewis and Shaqai Forde, combined to level the scores. A wonderful ball beat Notts' high line, releasing Forde through on goal. He took a touch to measure himself, before curling a left footed shot past Slocombe and into the back of the net, sending the excellent travelling support into raptures.
Notts did try their best to find a winner in stoppage time, and it was hero Whitley who kept the scores level. He made 3 big saves first from a Rodrigues header, before Chicksen too went close with a header of his own. One final header would test Whitley, this time from Langstaff, but he was once again on hand to tip the ball over the bar. This was the final chance of the game, with Notts taking a point into the playoffs.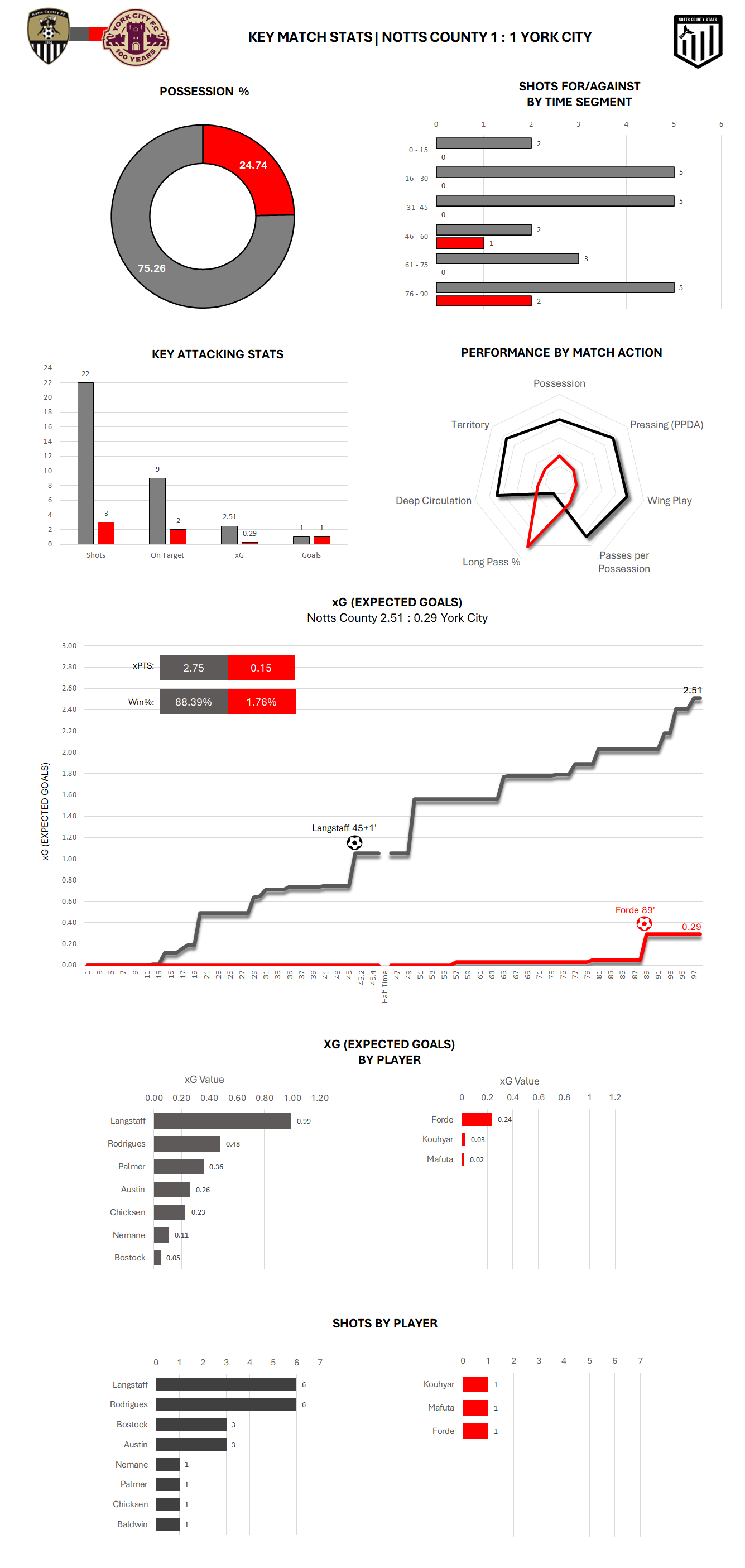 A terribly frustrating set of match stats in another game that Notts completely dominated. Unfortunately they came up against a well organised York defence and a keeper having the game of his life.
22 Shots on goal, 841 passes and massively out performing the visitors in the pressing stats, although mainly due to the high ball retention resulting in York allowing Notts over 41 passes per defensive action, a clear sign of a team parking the bus.
The xG data yet again confirms Notts' dominance in a game that annoyingly should have been over as a contest midway through the second half.
Season stats updated below.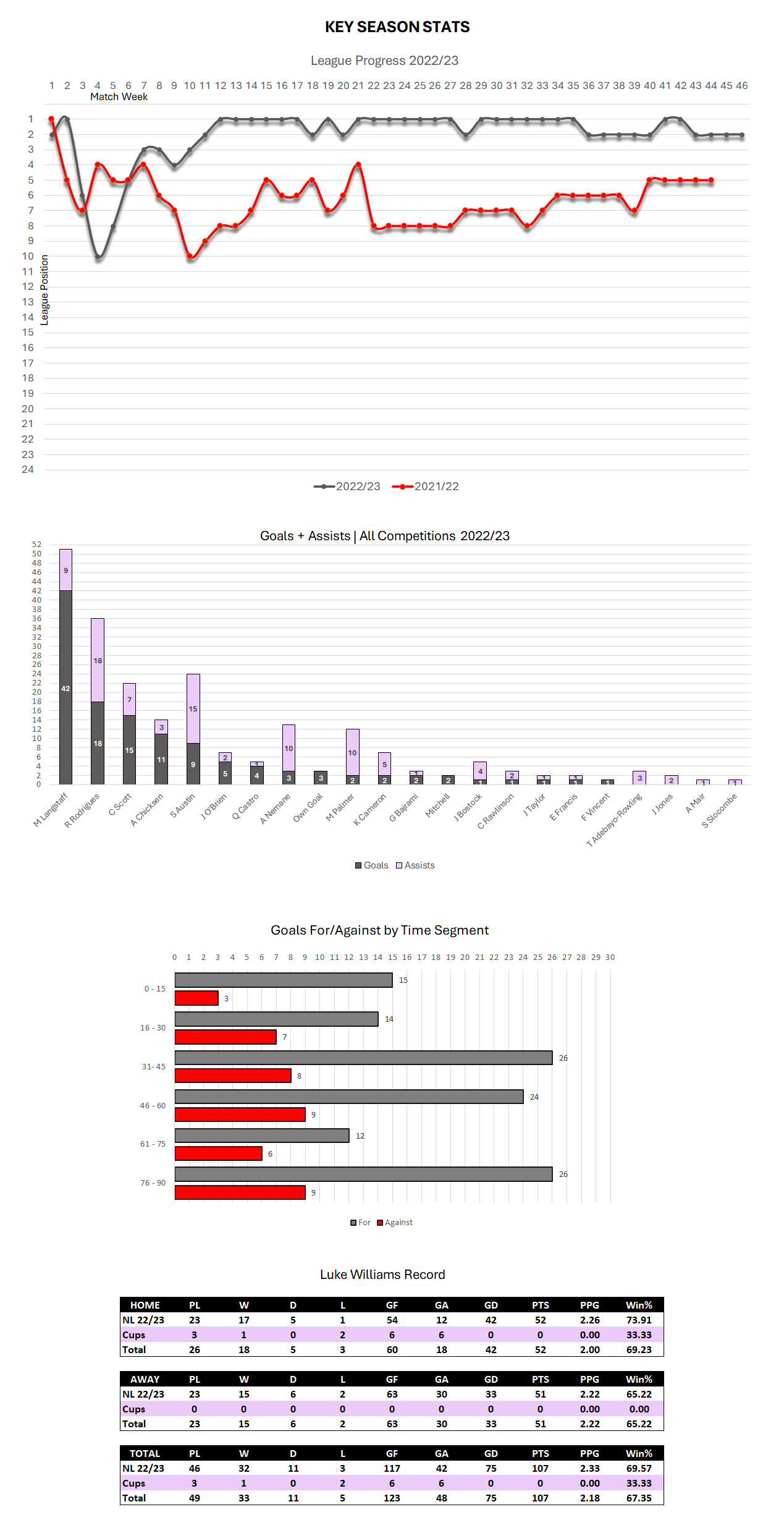 Luke Williams record at the end of the regular season sees him a fraction shy of 70% win percentage for the 46 games. That puts him second in the all time Notts managers win% table behind Steve Cotterill with 78%, albeit that was from just 18 games in charge.
For 36 of 46 games Notts were sat in the top two, constantly swapping between first and second place with eventual title winners Wrexham.
Despite missing out on the title and automatic promotion this season has been unprecedented in terms of breaking records in the clubs 161 year history.
Most points in a season - 107
Most league wins in a season - 32 (previously 30, 1970/71)
Most league goals scored in a season - 117 (previously 107, 1959/60)
Most league away wins equalled - 15
Most league games unbeaten - 25
Fewest league defeats in a season - 3 (previously 5, 1997/98)
Most goals scored by a Notts player in a single season - 42 (previously 39)
Most goals scored by a player in the National League - 42 (previously 40)
Most goals scored by a player in a single season in non-league - 42 (previously 41)
Highest National League attendance - 16,511
Player Stats - All Competitions: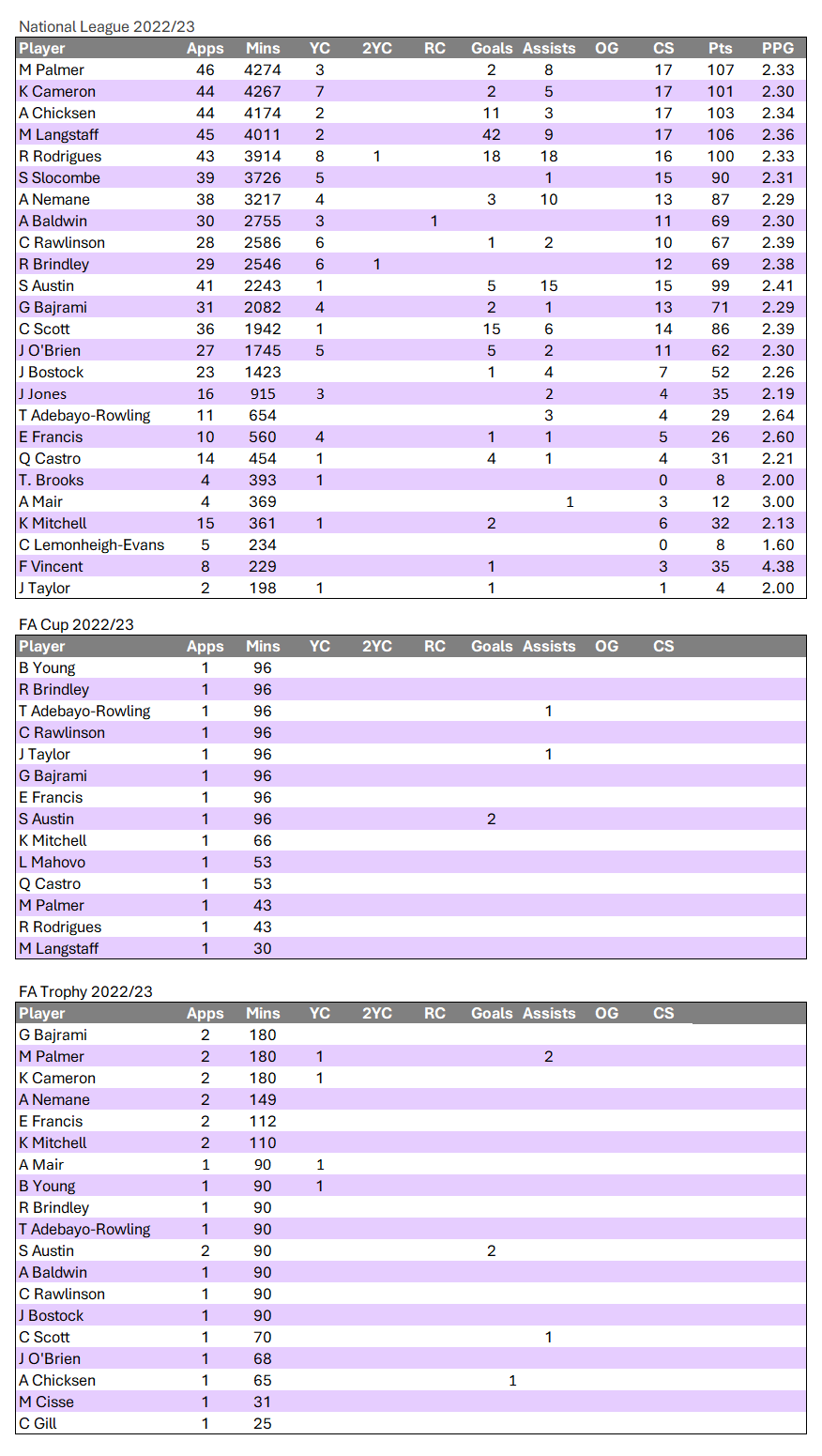 A total of 29 players have featured for Notts in all competitions this season. This includes 21 first team players contracted to Notts, 5 players on loan and 3 players who stepped up from the academy.
Matty Palmer is the only player to appear in every game for the club in all competitions so far with 49 appearances totalling nearly 4,500 minutes on the pitch.
Jodi Jones has made the most appearances this season as a loan player getting minutes in 16 league games.
All eyes turn to a home play-off semi final on Sunday 7th May where Notts will face the winner of Tuesday night's elimination match between Barnet and Boreham Wood.
Excluding the long term injury to Tobi Adebayo-Rowling, Luke Williams should have the advantage of a fully fit squad to pick from which when you consider the intensity this squad has been asked to play with this season is nothing short of miraculous.
Preview and opposition analysis to follow Tuesday nights eliminator.
As always thanks for reading.
COYP!
For Notts County Stats:
Richard - @notts_stats
Tom - @tomhwilliams23
Colin - @Colin_Sisson
Data
Wyscout
Official Partner
@analysts_bar