In the most dramatic of circumstances Notts secured their place in the National League playoff final, as unlikely heroes Aden Baldwin and Jodi Jones both scored last gasp goals at Meadow Lane. Baldwin, who had never scored for the Magpies before the weekend, netted a brilliant brace, the latter of which was 6 minutes into stoppage time, while substitute Jones also scored his first goal for the club in the final minute of extra time. The reward, playing in front of 35,000+ at Wembley, seems a fitting one, with the Magpies just 90 (or 120) minutes away from a potential return to the Football League.
The side Notts will face, Chesterfield, got to the final in similar circumstances, with the Spireites also winning 3-2 after extra time. A wonderful strike from Liam Mandeville ultimately proved the difference, with Chesterfield's Player of the Season sending them to Wembley. It means the sides will meet for a 3rd and final time, with Notts having the better results this season, a 2-2 draw and a 2-1 away win, while it could actually be argued that the Spireites had the better of proceedings as a whole. It makes for a fascinating match up, one which will play out in front of the biggest crowd of the season.
Tactics & Players:
The clash at the weekend sees the two sides with the highest average possession lock horns, with both sides showing a commitment to playing possession based football. It will make for an intriguing clash, as Notts have only recorded less than 60% possession on 2 occasions this season, both of which were in the games against the Spireites. This suggests Notts struggle to keep the ball as much as they do usually when playing Chesterfield. This comes down to a combination of the Spireites' own ability to keep the ball, but also their off the ball work.
Only 2 sides have a lower PPDA (Passes per Defensive Action) rating than Chesterfield, highlighting their commitment to closing the opposition down. It's therefore unlikely that Notts will record anything near their average 70.1% possession, providing a completely different challenge to the one they faced at the weekend against Boreham Wood.
Our own Tom Williams spoke to Chesterfield's Assistant Manager Danny Webb earlier this week about the similar styles, to which he referenced the fact that Notts struggled when they visited the Technique. He did however suggest that this might be just "an off day" and that "you can have all the game plans in the world but if we (Chesterfield) don't turn up and they do (Notts) it'll be tough".
The playing style radars below enforce the fact that there is very little to separate the two teams.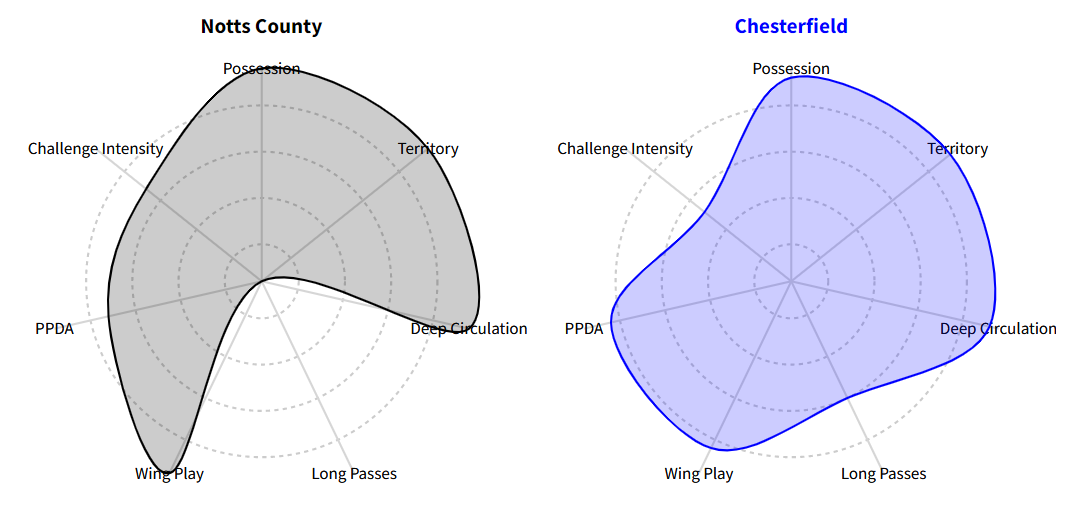 Paul Cook has set his side up in either a 4-4-2 or a 4-2-3-1 of late, with rotation in the striking role dictating which system he will use. He fielded arguably his strongest side against Bromley, which saw Andy Dallas up front with Ryan Colclough playing just off the loan forward. This allowed him to play Armando Dobra off of the left, a man who is very familiar to Notts fans following his celebration at the Technique, while also allowing Mandeville to take his position on the right hand side. This provides Chesterfield with an extremely potent front 4, as formidable as any in the division.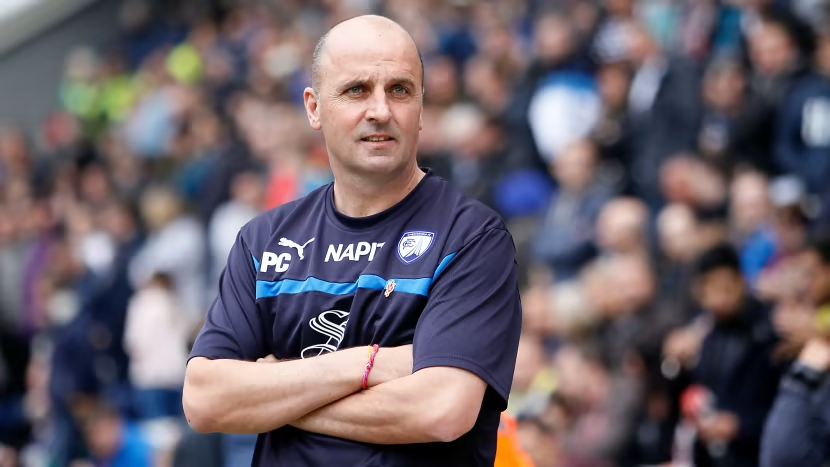 Spirites Boss Paul Cook | (Img: PA)
One area of concern that Boreham Wood highlighted is the high line. While it is an occupational hazard, due to the style Notts play necessitating that the defenders push up, the Wood still got in behind with worrying consistency.
One player who has had success beating that high line this season is Andrew Dallas, who beat the offside trap on numerous occasions when Notts visited Solihull earlier in the season. He was particularly profligate that evening, failing to make anything meaningful of his chances, mustering just 0.35 xG from 4 shots. Still, if you are to watch that game back you can see that Dallas is an incredibly intelligent forward, one who understands the nuances of Notts' backline. If his movement and runs in behind are as clever as they were that evening in the West Midlands, the Scottish forward could have some joy on the hallowed Wembley turf.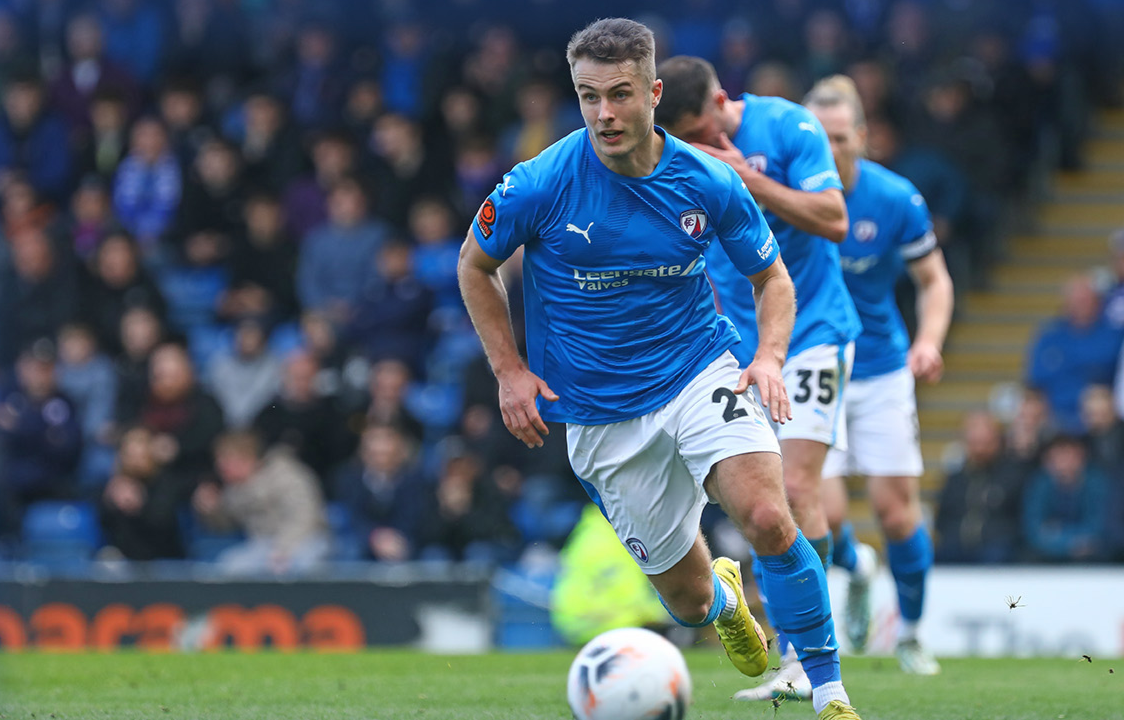 Attacking threat | Andy Dallas | (Img: Tina Jenner)
He may have been wasteful that night, but he is still a player of immense quality. 29 goal contributions really highlight this quality, with only Langstaff, Mullin and Rodrigues managing more this season.
Dallas has played the role of both creator and provider with the 23 year old relishing his new role in a Chesterfield shirt. He has hit form at the right time too, hitting 6 goals in his last 5 games, including a hat trick against Torquay. Where Dallas is deployed may have an impact on his output too. If Cook favours him as the lone striker he may look to get in behind the backline, forging chances for himself. However, if Cook opts to pair him with a more traditional strike partner, in either Paul McCallum or Joe Quigley, he may play slightly deeper, connecting play rather than looking to finish moves off. Either way, Dallas is likely to be at the heart of everything Chesterfield do, making him a key man to watch this weekend.
In many ways, the Chesterfield side Notts will face on Saturday will be different to the one they have done battle with this season. Not least because Chesterfield, following a slump in form, added genuine quality to their squad. Alongside the aforementioned Dallas is attacker Ryan Colclough, who Notts fans only saw a glimpse of in the form of a 15 minute cameo at the Technique. Even in those 15 minutes he showed what a threat he is, and he is a player who has rejuvenated the Spireites' season. 22 goal contributions make him the joint 7th most potent attacker in the league, and if this wasn't enough to highlight his threat, Colclough also made it into the National League Team of the Season, reinforcing his danger.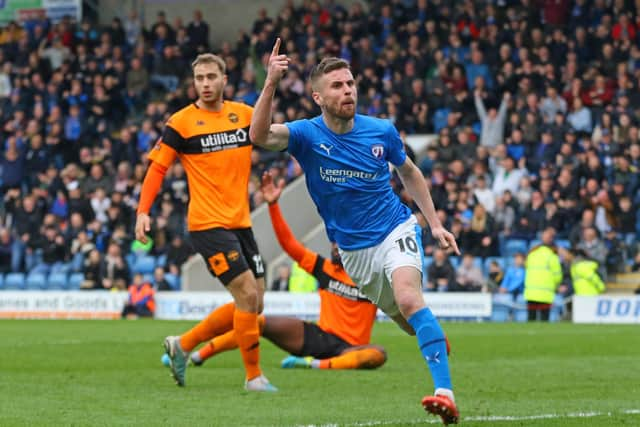 Ryan Colclough celebrates | (Img: Tina Jenner)
A tricky, direct winger, Colclough is strong on both feet, which makes him a nightmare to defend against. The ability to go either way gives him the edge in 1v1 battles; it's therefore no surprise that he has completed the most dribbles of any player in the league this season. If Cook does decide to use him on his preferred left side, the battle against Aaron Nemane will be a fascinating one. Notts cannot afford to let Colclough into the box, where he is at his most dangerous. The type of player to relish the pressure of Wembley, Colclough is certainly a key man for the Spireites.
The other Chesterfield man to make the Team of the Season was Jeff King, the man who was sent off the last time the two sides met. He had a strong season, the first half of which was arguably better than the second, but his quality from right back cannot be denied. Only 3 players, one of which is Adam Chicksen, have played more crosses than King this season, showing his commitment to getting forward to supply the forward players. He does sometimes leave space when he ventured forwards, but it's a risk that is outweighed by its reward. King has 7 goals and is in double figures for assists, owing in part to his fantastic dead ball ability. If Notts are to concede a set piece, King will back himself to change the game from it, so Notts must guard against his threat down the right.
A mention must also be given to Armando Dobra, who was the Spireites goalscorer the last time the sides met. Remembered that day for 'that' celebration, Dobra had a strong game, and was a constant thorn in the Magpies' side. A tricky dribbler, Dobra has excellent balance, and his low centre of gravity makes him tough to dispossess.
Another player who is likely to relish the big occasion, Dobra has experience playing at the higher levels, despite being just 22 years old. He's also flown under the radar somewhat; he has 6 goals in 28 appearances, and is another player who will really threaten on Saturday.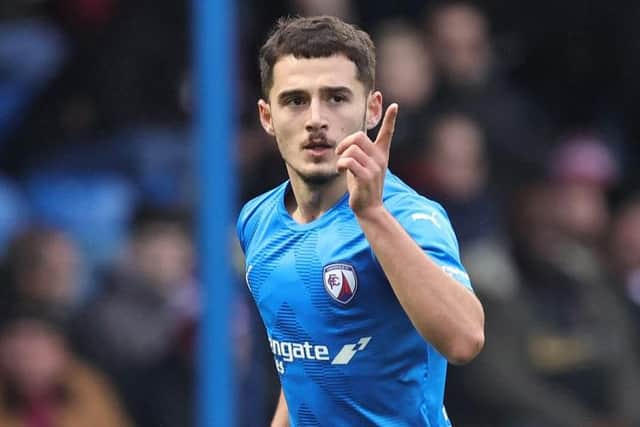 Armando Dobra | (Img: Derbyshire Times)
Left back has been a problem position for Paul Cook's side this season, with Bailey Clements, Branden Horton and latterly Laurence Maguire vying for the starting spot. Despite Maguire seemingly making that position his own in the run in, Cook opted to switch things round once more in that position on the final day against Maidstone, with Clements returning to the side. The 22 year old hadn't made a match day squad since the 2-1 loss to Wrexham in February, so his inclusion was somewhat of a surprise. Clements scored that day, giving boss Cook even more of a selection headache, one which eventually saw Clements start just his 2nd game in 2 months in the playoff semi final. He played the full 90 against Bromley, before being replaced by Maguire in extra time, so whether Clements is too fatigued to play remains to be seen.
This all serves to highlight how left back has been an unsettled position for the Spireites, and, if managed correctly, how it could be a weakness for Notts to exploit at the weekend.
Notts' crucial 2nd goal came from that right hand side, and with Chesterfield's lack of certainty in that position, it is something Notts could look to capitalise on. It's entirely possible that Cook will opt for Maguire, with his experience, fresher legs and more defensive solidity making him the safer option. If that is the case though, Notts must look to get Aaron Nemane into the game as soon as possible. His runs into the right channel could cause havoc, and if nothing else will help pin Maguire back, opening up space elsewhere. Conversely, if Cook does opt for Clements Notts will still look to get Nemane on the ball, driving at the tired legs which may still not be up to speed. If he is able to get beyond his man and provide a cut back into the dangerous areas, Notts could create real chances.
Odds:
At the time of writing the bookies had Notts as favourites but the odds on Chesterfield do appear to be shortening as the game gets nearer.
The best you can currently get on a Notts win after 90 minutes is 6/5 (2.20), whereas you can still get 49/20 (3.45) for a chesterfield win and 13/5 (3.60) for the draw.
Based on these odds Notts would have a 45.45% chance of winning, Chesterfield 29.98% and 27.78% chance of a draw.
Final thoughts:
So this is it, a single game of football will be the defining moment of a long hard fought season, a season that saw Notts finish with 23 points and 36 goals more than Chesterfield. It's understandable then to expect Magpies fans to be slightly more frightful of a defeat such is the desperation to get back into the EFL after such a fantastic campaign.
However, a season defining game of football is exactly what it is and despite the bookies odds currently leaning in favour of a Notts win there is very little to separate the teams and it's likely this encounter will be won, or indeed lost on the finest of margins.
Hold your hats people, we are in for a bumpy ride!
COYP!
Credits
For Notts County Stats:
Richard Ogando - @notts_stats
Tom Williams - @tomhwilliams23
Colin Sisson - @colin_sisson
Official Partners
Analysts Bar Podcast - @analysts_bar
Notes:
Betting odds and score predictions are only used as another means to assess current form and sporting industry expectations of possible result. Notts County Stats do not receive any remittance from gambling organisations. We also understand that for some people gambling can have a harmful impact. If you are concerned about the way you gamble please seek advice here Be Gamble Aware