On Tuesday night we found out that it would be Boreham Wood that will travel to Notts on Sunday, with the Hertfordshire outfit progressing following a 2-1 win over Barnet. The 2nd lowest ranked side in the playoffs proved that these games truly are a lottery, with Sunday providing them with the chance to overturn a 35 point gap in one fell swoop.
They are no stranger to a result against Notts either, with The Wood consistently proving problematic during the Magpies' time in the National League. In fact, Boreham Wood are one of just two teams who Notts have failed to beat this season; the other being Bromley, who could potentially meet Notts at Wembley should both progress to the final.
Tactics & Players:
We all know what you get when you face Boreham Wood and the playing style radar below does much to confirm this.
Direct, very little in the way of ball possession and scoring highly in defensive actions The Wood also score highly in territorial actions with quick long balls into the final third with any defensive turnover of the ball.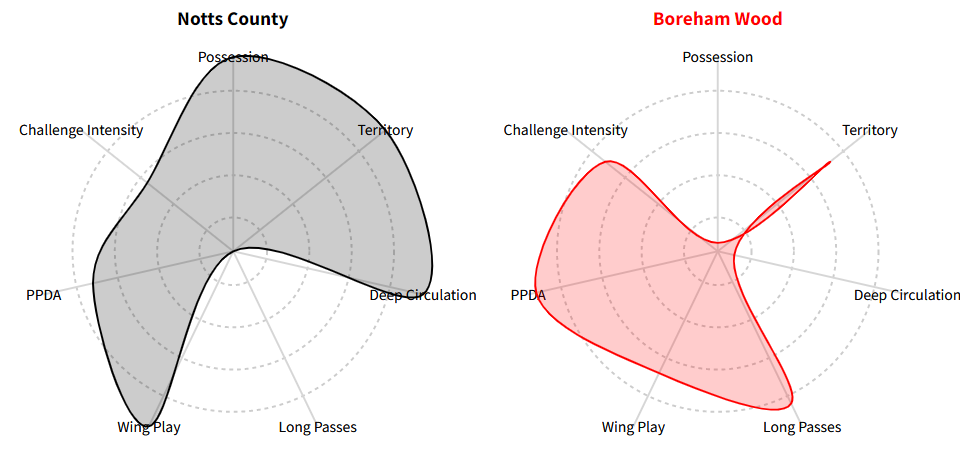 The Wood showed on Tuesday night exactly why they are in the playoffs; they are organised, defensively solid, and are able to frustrate the opposition. There is good reason they conceded the fewest goals in the league this season, with Luke Garrard's men consistently limiting the opposition to very few clear chances. He does so by setting his side up in a 5-3-2 system, with 3 physical centre backs protecting one of the league's finest keepers, Nathan Ashmore.
They also have a player sitting at the base of midfield, usually experienced Jack Payne, providing even more protection. They are organised in their shape too, keeping the back 3 compact, with the midfield bank sitting in front, to form an almost impenetrable low block.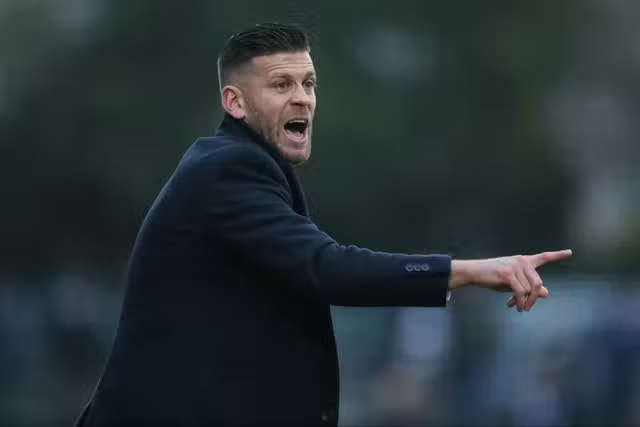 Wood Boss Luke Garrard | (img: Evening Standard)
Last time they visited the Lane, Boreham Wood went man for man, looking to aggressively mark Notts out of the game. They were dominant physically that day, and while they certainly have the experience to do it (their starting 11 had an average age of 28.8) they may not have the energy required. They've played 3 games in 1 week, with the Wood needing a result on the final day to secure a spot in the playoffs.
They also looked considerably fatigued towards the back end of their Quarter Final against Barnet, and in some regards they were lucky that the Bees resorted to long balls into the box, which due to their aerial prowess they were able to deal with easily. Therefore, it might be more likely that the Wood will look to drop off Notts, allow them to have the ball, and ultimately keep themselves as compact as possible. Keeping a tight shape will allow them to congest the box, so it may be up to Notts to draw them out of their shape to craft opportunities.
This fatigue almost proved costly for the Wood, as during their Quarter Final keeper and captain Ashmore, who has played every minute of their campaign this season, went down with an injury early on. When collecting a routine ball he seemed to injure his calf, something which severely impacted him throughout the rest of the game. While his shot stopping and command of his area were not affected, his distribution was extremely impacted. He was reduced to playing short goal kicks to Chris Bush, and he even had to resort to kicking with his weaker foot, such was the extent of his injuries.
While he did battle through the game, and ultimately sent his side into the Semi at Meadow Lane, his injuries clearly proved too much, as Boreham Wood announced on Friday that they would be bringing in emergency loan keeper Joe McDonnell from Eastleigh.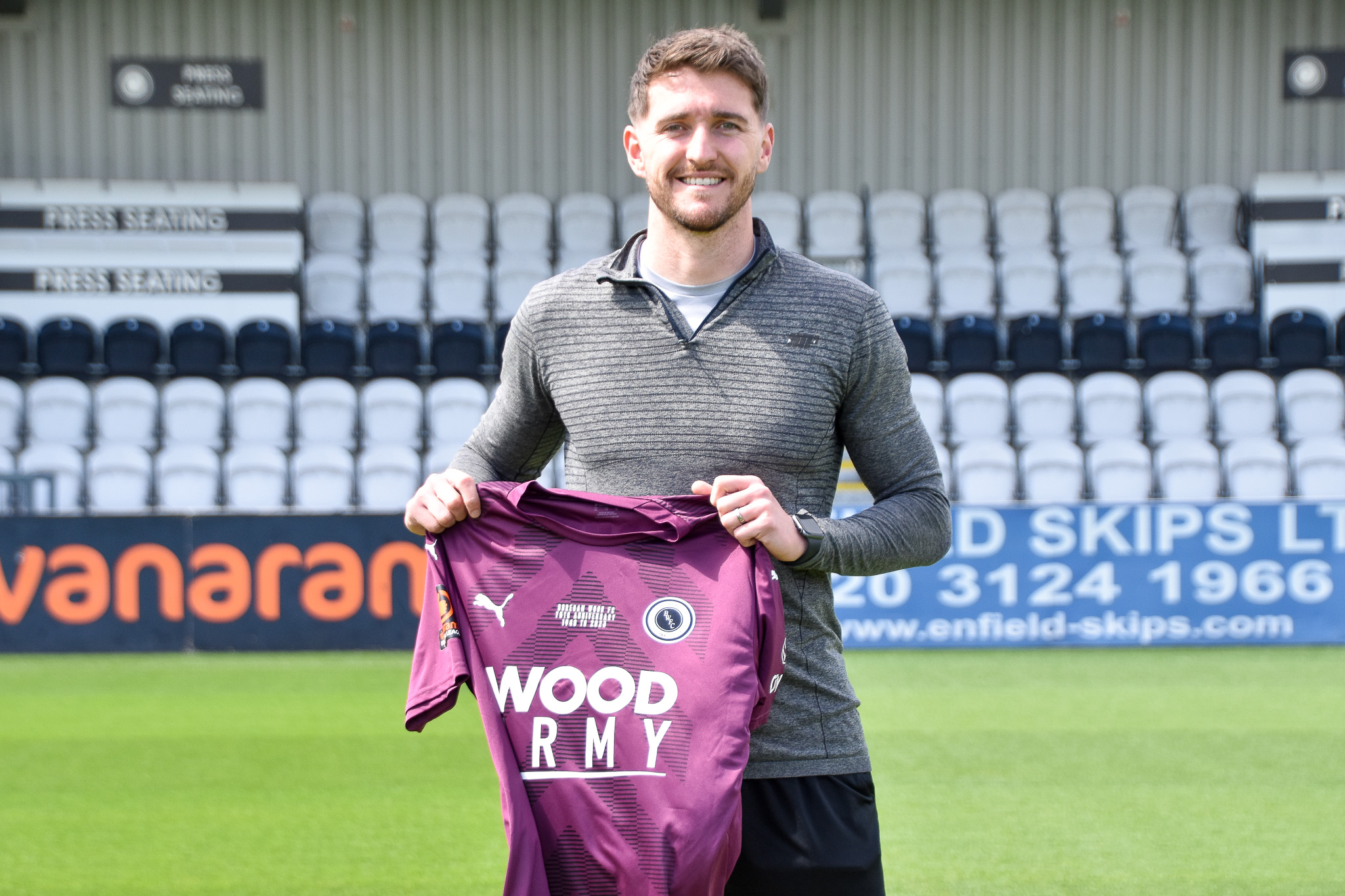 Filling in | Joe McDonnell | (img: BWFC)
McDonnell is a name that will be familiar to Notts fans, with the shot stopper having a brief stint with the club in 2020. He is a much improved keeper since his time as a Magpie though, going on to make over 100 appearances for Eastleigh and is now considered one of the best keepers in the league, and he has kept the most clean sheets this season, 16, one more than Notts' Sam Slocombe and Nathan Ashmore, the man he will be replacing on Sunday.
McDonnell also has form as a covering goalkeeper, as he did so last season, helping Neal Ardley's Solihull to the playoff final. In terms of distribution, McDonnell is a good fit for the Wood. He plays 10.49 long passes per 90 to Ashmore's 10.16, and he also completes just a shade more of these, 70.17% compared to Ashmore's 69.79%.
This will have played a factor when the Wood considered which loan keeper to bring in, as direct balls straight from the keeper are essential to how they counter attack. Notts fans that travelled to Eastleigh earlier in the season may remember a sumptuous pass played by McDonnell, which unlocked the Notts high line and turned defence into attack in just one pass. A real cutter of a ball, McDonnell had released Abrahams for Eastleigh, but he had given Notts a reprieve by fluffing his lines. Still, the signs are there that McDonnell may play a big role against his former side.
He won't be the only former Magpie visiting Meadow Lane, as both Zak Brunt and Dion Kelly-Evans, both of whom played for Notts last year in the playoffs, make their return. Both started, and were subsequently subbed off, on Tuesday night, and it is likely Garrard will look to ensure continuity. Kelly-Evans has only recently established himself in the side, following an injury filled season. His aggressive style caused him to go into the book against Barnet, with the substitution perhaps made as a measure to prevent the wing back receiving a second caution. That was just his 12th appearance of the season, although he will be hoping it won't be an unlucky 13th game if he is given the nod over the more attacking wing back option Erico Sousa, another man who played in the playoff clash last year with Grimsby.
Brunt has had a considerably better season for Boreham Wood than his former teammate Kelly-Evans, with the 20 year old winning the club's Young Player of the Season award, as well as being the recipient of the Most Player of the Match Awards too. Brunt has shown much more of the form that initially attracted Notts to him, with the young midfielder flourishing in a slightly more advanced role to the one he was given at Meadow Lane.
Brunt is an extremely creative player, one who is always looking to fashion a chance; he has played the 6th most Smart Passes in the whole league, with only Ruben Rodrigues playing more of those involved this Sunday. He's also played the 4th highest through passes, again only behind Rodrigues of those involved on Sunday, showing that not only is he Boreham Wood's most creative player, but he is also one of the most creative players on the pitch full stop.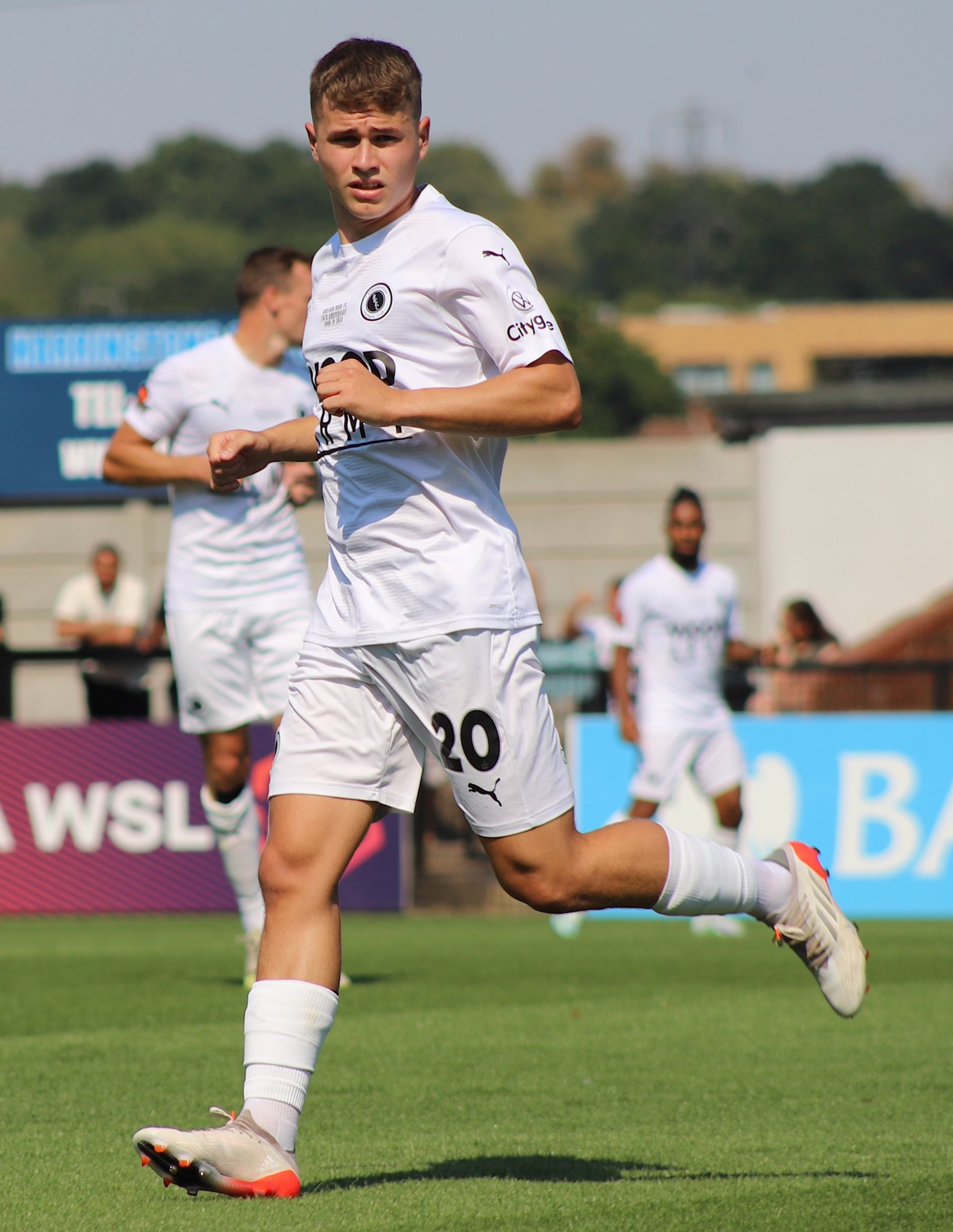 Creative | Zak Brunt | (img: @BruntZak - Twitter)
Brunt is paired with fellow Sheffield United loanee George Broadbent in midfield, and the pair compliment Garrard's style perfectly. Broadbent usually sits slightly deeper, and combines excellent off the ball work rate with an eye for goal, something which has produced 5 goals from central midfield.
Both follow the instructions of the system excellently, helping maintain the tight shape Garrard likes to employ, but once they do gain possession and look to counter, they possess the requisite skills on the ball to fashion high quality chances. It makes them key players for the Wood, and if they are to create chances on Sunday it is highly likely that they will come through them.
The Wood's most threatening player is undoubtedly powerful forward Lee Ndlovu who finished the season as their top scorer with 11, but if his threat wasn't apparent enough already, it was his brace which fired Boreham Wood into the Semi Final stage.
An extremely well built forward, Ndlovu uses his frame to his advantage, part of his strong hold up play. Ndlovu is so often the out ball for the Wood, and he is often tasked with holding the ball up while support arrives. It's hardly surprising that he is so strong shielding the ball when you see the way he is built, and he makes for a fearsome opponent. He is also often tasked with leading the line by himself, as striker partner Tyrone Marsh drifts into the wide left channel.
Ndlovu is capable of playing the role of solo forward though, as was shown by his deft chip against Wrexham in their 3-1 loss at the Racecourse. Ndlovu is a seasoned striker, and he played a similar role in a Brackley side that conceded just 23 goals last season. Ndlovu's off the ball work is often overlooked, but it is his work rate and overall play which allows him to be the spearhead for sides like Brackley and Boreham Wood. He is also a potent finisher when given the chance. He has scored 24% of Boreham Wood's goals this season, having scored 24.5% of Brackley's ;ast season. He is clearly an integral part of the way Boreham Wood play, and he is their main goal threat come Sunday.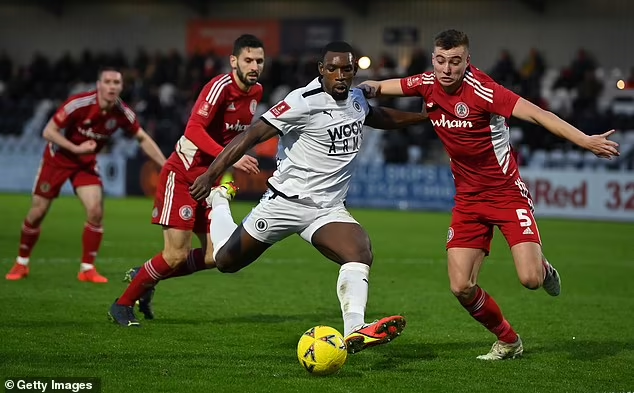 Fearsome | Lee Ndlovu | (Img: Daily Mail - Getty Images)
The other main goal threat Boreham Wood possess are set pieces. They have players, such as Brunt, who possess good deliveries, making them a threat from both free kicks and corners. The biggest danger from set pieces though is their throw ins, which can provide a variety of different problems. Firstly, they have two types of throw. They have a long throw which goes down the line, where the wide centre back on either side looks to gain as many yards as possible down these wide zones. They pack their team into the lateral zones, looking to overwhelm and overpower their opponents in such a tight space. Crucially, they steal hard yards, and are able either to fashion a chance at the back post with a quick switch, or set up their second type of throw.
Chris Bush, a man who has taken points at Meadow Lane with 2 different sides this season, possesses one of the longest, flattest throws in the National League. It is a real weapon, one Garrard looks to exploit as much as possible. Just as Notts had to contend with against Wrexham, an aerial bombardment in the 6 yard box could be possible, made even more threatening due to the height Boreham Wood possess. This may influence Luke Williams' decision as to who he fields to the right of the back 3. It will be intriguing to see whether he favours the height of Rawlinson, as he did against Wrexham, or whether he opts for the pace of Brindley, which could be crucial when employing the high line.
Luke Williams fielded a strong side for the final day of the season, one which looks to be fairly settled. The only other real position under contention is that of Sam Austin, and whether Williams will opt for the midfielder, or whether he will give forward Cedwyn Scott the nod. There are compelling arguments for both, with some favouring the physicality and direct option that Scott provides, while others preferring the space and movement created by an Austin selection.
Whoever Williams opts for, they are likely to cause Boreham Wood issues, with the other on hand to make an impact from the bench.
Odds:
Despite being a one off knock out game, something that The Wood excel at, the bookies still have Notts as massive favourites for the win.
The best you can currently get on a Notts win after 90 minutes is 9/25 (1.36), whereas you can still get 7/1 (8.00) for an "upset" and 19/5 (4.80) for the draw.
Based on these odds Notts would have a 73.53% chance of winning, Boreham Wood 12.50% and 20.83% chance of a draw.
In the real world having The Wood at such long odds a little head scratching but offers great value for those wanting to punt on an upset.
Final thoughts:
There's very little more to be said about this game or the opposition. Boreham Wood, despite the 35 points difference will offer Notts some of the toughest competition they have faced this season.
The added jeopardy of missing out on promotion for the fourth consecutive year will certainly make the Notts faithful extremely anxious. After all, to have such a record breaking season and still miss out on promotion would be up there as one of the most Notts County things ever.
Luke Garrard will have his players properly up for this encounter, after all, they really have nothing to lose and everything to gain. Hopefully, from a Notts perspective we have to assume that Luke Williams and his coaching staff have prepared well for any eventuality, and on this seasons showing there is no reason to assume otherwise.
COYP!
Credits
For Notts County Stats:
Richard Ogando - @notts_stats
Tom Williams - @tomhwilliams23
Colin Sisson - @colin_sisson
Official Partners
Analysts Bar Podcast - @analysts_bar
Notes:
Betting odds and score predictions are only used as another means to assess current form and sporting industry expectations of possible result. Notts County Stats do not receive any remittance from gambling organisations. We also understand that for some people gambling can have a harmful impact. If you are concerned about the way you gamble please seek advice here Be Gamble Aware